Single Inlet Blower
Product Info

Application

Technical Specification
Anupam's Blowers normally use forward curved impellers made of galvanized steel, which are press fitted on the Rotor of External Rotor Motor, making the unit compact. Single inlet signifies that the Air is drawn from one side of the Blower only. The Rotor with impeller is dynamically Balanced in two planes, for vibration free running during its entire life. The assembly of Motor and Impeller is essentially mounted in a technically designed Housing for optimum performance. The External Rotor Motor is cooled with the air stream flowing over it.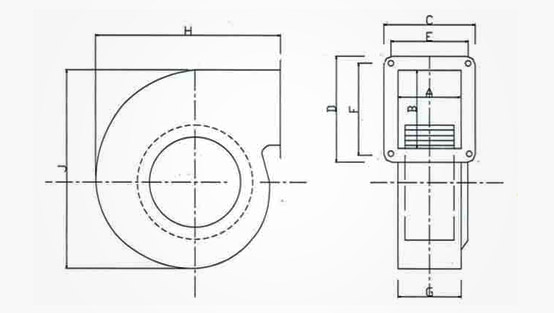 SINGLE INLET BLOWERS HOUSING DIMENSIONS
Blowers Range From
Impeller Diam. : 125 to 240 mm
Air Flow : 175 to 1200 m3/hr
Input Voltage : 110, 220, 440 V AC (50/60 Hz.)
Power Input : 20 to 350 W
Note : Motor used with CE Mark and confirms to EN 60335-1 standards.
Impeller
A mm
B mm
C mm
D mm
E mm
F mm
G mm
H mm
J mm
Diameter
133
59
71
99
111
79
91
62
179
180
140
80
75
120
115
100
95
83
190
185
160
80
90
120
130
100
108
83
234
240
180
95
110
137
150
115
128
98
260
275
225
132
160
182
210
157
185
135
350
325
Model
Impeller
A
B
C
D
E
F
G
H
J
Diameter
SI*/125*/H
125
65
50
105
90
85
70
53
175
170
SI*/140*/H
140
80
75
130
125
115
105
80
190
185
SI*/160*/H
160
80
92
120
130
100
108
83
234
240
SI*/180*/H
180
95
110
137
150
114
128
93
260
275
Cooling band heaters
Cooling AC/DC Drives
Air Balloons as an advertising media
HVAC applications
Applications with relatively small Air Volumes with high static pressure, and low noise levels
Technical Specification of Available Models
Centrifugal Blowers Single Inlet 1400 RPM
Model
Rotor
Diam.
mm.
Impeller
Diam.
mm.
Voltage
V
Amps
A
Input
Watts
W
Air
Volume
m3/hr
SI 23/14014/H
92
140
230
0.28
65
370
SI 23/16014/H
92
160
230
0.40
90
450
SI 23/18014/H
110
180
230
0.50
110
600
SI 44/18014/H
110
180
415
0.35
140
650
SI 23/23514/H
110
235
230
1.00
220
900
SI 44/23514/H
110
235
415
0.60
250
950
Centrifugal Blowers Single Inlet 2800 RPM
Model
Rotor
Diam.
mm.
Impeller
Diam.
mm.
Voltage
V
Amps
A
Input
Watts
W
Air
Volume
m3/hr
SI 23/12528/H
92
125
230
0.28
65
180
SI 23/14028/H
92
140
230
0.32
70
485
SI 44/14028/H
92
140
415
0.25
75
500
SI 23/16028/H
92
160
230
0.65
150
600
SI 44/16028/H
92
160
415
0.40
150
650
SI 23/18028/H
110
180
230
1.25
280
850
SI 44/18028/H
110
180
415
0.75
300
850