Low & Medium Density Cartridge Heaters
Product Info

Applications

Ordering Information

Technical Specification
Anupam Electroheat's Low & Medium Density Cartridge Heater is developed for heating applications not requiring high watt densities and sheath temperatures not exceeding 300°C. These Cartridge Heating Elements are designed in maximum watt densities of 30 to 45 watts per square inch depending on applications. Such a Cartridge Heating Elements of various sheath diameters can be used in any assembly, equipment or machine.
The Low & Medium Density Cartridge Heater can be absolutely customized to suit customer's needs. Such Cartridge Heating Elements can be an economical option for customers not requiring high process temperatures. Cartridge Heating Elements are designed & calibrated perfectly to ensure that optimum conductivity between the resistance coil and the Cartridge Heater is achieved.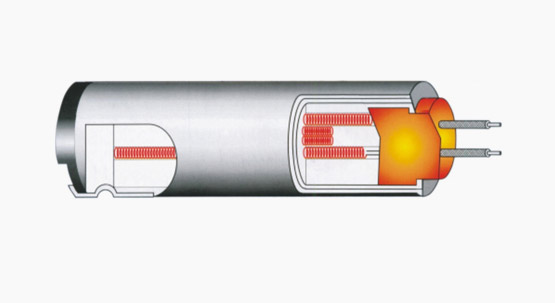 Construction
The Low & Medium Density Cartridge Heater design consists of a helically wound resistance coil made from nickel-chrome wire, evenly stretched and strung through holes in a round ceramic insulator. The element assembly is inserted into a Chrome Nickel Steel. This alloy provides the best combination of physical strength and resistance to heat oxidation up to 450°C.
Specially selected grain size and high purity magnesium oxide is used to fill all remaining space inside the ceramic insulator to increase thermal conductivity, dielectric strength, and provide longer operating life of the Cartridge Heater.
DIE PLATEN HEATING
DIE CASTING INDUSTRY
EXTRUSION LINE
HOT MELT ADHESIVES
PACKAGING INDUSTRY
PAPER INDUSTRY - EMBOSSING ROLLERS
PREFORM MOLDS
RUBBER MOLDING INDUSTRY
SEAL BARS
SEMI CONDUCTOR INDUSTRY
TEXTILE INDUSTRY - HEATING OF CUTTING KNIVES
Standard Diameters (MM)
10.00 mm
12.50 mm
16.00 mm
20.00 mm
Diameter

Length (MM)

Recommended Watts (W)

10.00 mm
50
50
75

100
100

120
125
150
150
180
175
200
200
250
225
275
250
300
275
330
300
360
325
400
350
420
375
450
400
480
425
500
450
550
475
570
500
600
Diameter

Length (MM)

Recommended Watts (W)

12.50 mm
50
80
75

120
100

150
125
200
150
250
175
280
200
320
225
350
250
350
275
450
300
480
325
520
350
550
375
600
400
640
425
680
450
720
475
750
500
800
Diameter

Length (MM)

Recommended Watts (W)

16.00 mm
50
100
75

150
100

200
125
250
150
300
175
350
200
400
225
450
250
500
275
550
300
600
325
650
350
700
375
750
400
800
425
850
450
900
475
950
500
1000
Diameter

Length (MM)

Recommended Watts (W)

20.00 mm
50
120
75

180
100

250
125
300
150
375
175
425
200
475
225
550
250
600
275
660
300
725
325
800
350
850
375
900
400
960
425
1050
450
1100
475
1150
500
1200
Standard Diameters (Inch)
3/8 inch
1/2 inch
5/8 inch
3/4 inch
Diameter

Length (inch)

Recommended Watts (W)

3/8"
2
50
3

100
4

120
5
150
6
180
7
200
8
250
9
275
10
300
11
330
12
360
13
400
14
420
15
450
16
480
17
500
18
550
19
570
20
600
Diameter

Length (inch)

Recommended Watts (W)

1/2"
2
80
3

120
4

150
5
200
6
250
7
280
8
320
9
350
10
350
11
450
12
480
13
520
14
550
15
600
16
640
17
680
18
720
19
750
20
800
Diameter

Length (inch)

Recommended Watts (W)

5/8"
2
100
3

150
4

200
5
250
6
300
7
350
8
400
9
450
10
500
11
550
12
600
13
650
14
700
15
750
16
800
17
850
18
900
19
950
20
1000
Diameter

Length (inch)

Recommended Watts (W)

3/4"
2
120
3

180
4

250
5
300
6
375
7
425
8
475
9
550
10
600
11
660
12
725
13
800
14
850
15
900
16
960
17
1050
18
1100
19
1150
20
1200
*More sizes available on request
Specification and Tolerances
| | | |
| --- | --- | --- |
| Feature | Low Density Cartridge Heater | Medium Density Cartridge Heater |
| Max. Surface Load | 4 w/cm² | 12 w/cm² |
| Wattage Tolerance | ±10% | ±10% |
| Insulation Resistance | ≥ 5 MΩ at 500V (DC) | ≥ 5 MΩ at 500V (DC) |
| Standard Dia Range | 8mm to 40mm | 8mm to 20mm |
| Diameter Tolerance | - 0.1mm | - 0.1mm |
| Standard Length | Minimum 50mm | Minimum 50mm |
| Length Tolerance | ± 1.5%, min ± 2mm | ± 1.5%, min ± 2mm |
| Max. Sheath Temperature | 400° C | 650° C |