Tubular Heaters
Product Info

Application

Bending Formations

Variations

Selection Criteria
Anupam's versatile Tubular Heaters are custom-formed in a wide variety of shapes to correspond to your requirements.
Tubular heaters can be used in almost any application. Straight Tubular Heaters can be clamped to metal surfaces or inserted in machined grooves for conductive heat transfer. Or use a formed Tubular to provide consistent heat in any type of special application. Tubular Heaters may be clamped, immersed in liquids, cast into metal or spaced away from the work as radiant heaters. They may also be positioned in ducts or vessels for heating air or other gases. 
Tubular Heaters of proper rating, material and shape can be used in most heating applications requiring process temperatures up to 750o C (1382o F). 
Construction
Anupam's tubular heaters use 80% Nickel 20% Chromium high grade coiled resistance wire as a heating core. This core is welded at both ends to pins that provide a cold section that varies in length depending on the application requirements. The coil-pin assembly is precisely centred inside a heavy gauge, oversize metal tube, and embedded inside a 96% pure, high-grade MgO insulating medium. This assembly is then compacted through a roll-reducing process that reduces the outside tube diameter to its final size, and transforms the MgO matrix into a rock-hard solid that acts as an excellent heat transferring medium, as well as an electric insulation with high dielectric strength. Finally, heaters are annealed inside a high-temperature furnace to eliminate internal stresses accumulated during the cold-forming and roll-reducing process to make them soft. Heating elements are then formed into special shapes, or supplied in their straight form. Proper electrical terminations are added to the final product.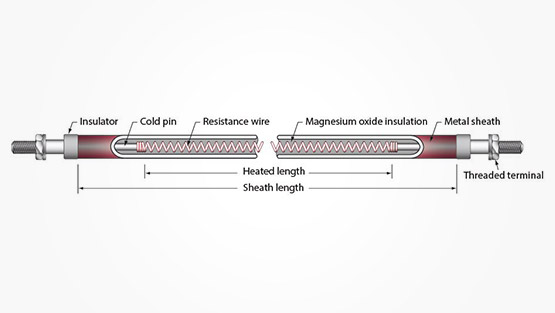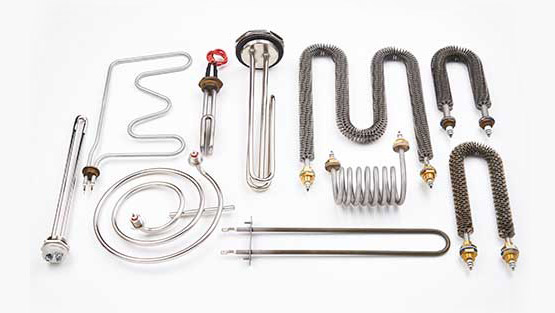 Advantages
Constructed with epoxy or silicone seals to resist moisture contamination (Oxidation and corrosion resistance)
Compacted with insulating MgO that allows heat to transfer away from resistance wire to the sheath material and media with faster efficient heat up
Virtually a limitless array of custom bend formation options, to include adapting heater element around space parameters – to maintain maximized efficient heating
Features
Incoloy® Sheath material
Threaded fittings are brazed, crimped or welded to the cold section of the heater
Nickel chromium Resistance wire is welded to the terminal pins for a stronger positive electric connection to increase the life span of the heater
MgO insulation fills the sheath to maximize the dielectric strength, promote efficient heat transfer, and prolong the life of the heater
Stainless steel studs are welded to the terminal pins, which can be covered with protective Ceramic Terminal Covers
Epoxy or silicone resin seals provide protection from moisture contamination. Seals can rate up to 390°F
Radiant Heating
Ovens
Dryers
Sealing Bars
Dehumidifier
Convection - Air and Gas
Shrink Tunnels / shrink packagin
Dies and Manifolds
Immersion Heating
Contact heating
Chemical industries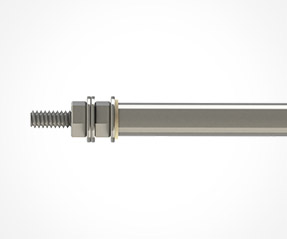 Straight Type
the tubular straight heater is constructed to most efficiently resist moisture and corrosion damage. the internal mgo insulation material is hydroscopic.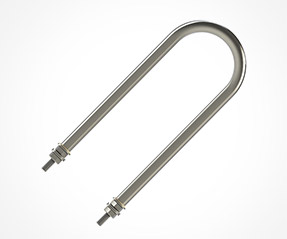 Hair Pin Bend Type
The hairpin immersion heater is a single bend heater that is filled with compacted mgo insulation.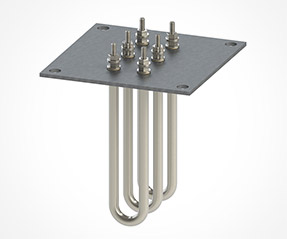 Flat Plate Type
The tubular flat plate immersion heater design is constructed with one or more tubular elements that are brazed, staked, or welded to a four or six bolt flange. this heater is mounted directly to a mating flange that's welded to a tank wall, or nozzle. the maintenance and change out of this heater is simple, as there's no need for extensive installation equipment. this heater is suitable for heating water, oils, and degreasing solutions. The tubular flat plate heater is typically found in boilers, and industrial storage tanks.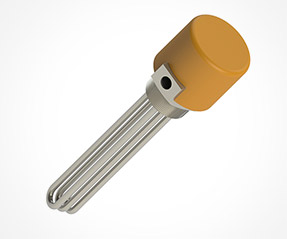 Screw Plug Type
Tubular screw plug heaters are hairpin bent, and welded or brazed into the screw plug – depending on the element sheath and plug compatibility of material used. and in accordance with standard electrical rating systems, these heaters are tested to be moisture and explosion resistant.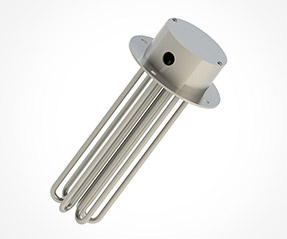 Flange Immersion Type
The flange immersion heater is easy to install and maintain. this heater is typically used to heat liquids, or gasses in tanks and pressure vessels. the tubular components are brazed or welded to a flange piece. this tubular variation is ideal for applications that require higher kilowatts.
The two most critical factors that affect the durability of a tubular heater are
Sheath material
Watt density
The sheath material type of a tubular heater depends on the operating temperature and the corrosivity of the medium within which the heater will operate. The watt density distribution on the surface of a tubular heater is critical for two reasons. First it determines the temperature that a heating element sheath will attain within the conditions that the heater is subjected to. The second reason is that every material has a specific maximum watt density that it can tolerate during its heating cycle. Table 1 below lists various sheath materials, maximum allowable temperatures and mediums within which they are recommended to operate. Table 2 lists recommended maximum watt densities and maximum operating temperatures for different materials
| Sheath Material | Maximum Sheath Temperature | Applications |
| --- | --- | --- |
| Copper | 350°F | Immersion into water and non corrosive low viscosity liquids |
| Steel | 750°F | Oil, wax, asphalt, cast in aluminum or iron |
| Stainless Steel 304-316 | 1200°F | Corrosive liquids, food industry, sterilizers |
| Incoloy | 1500°F | Air, corrosive liquids, clamped to surfaces |
Maximum Watt Density Ratings for Various Solutions
| Solution | Maximum Watts/in2 | Max Operating Temperature (°F) |
| --- | --- | --- |
| Acetic acid | 40 | 180 |
| Chromic acid | 40 | 180 |
| Citric acid | 23 | 180 |
| Nitric acid | 20-25 | 167 |
| Phosphoric acid | 25-28 | 180 |
| Alkaline solutions | 40 | 212 |
| Asphalt, tar | 4-10 | 200-500 |
| Bunker C fuel oil | 10 | 160 |
| Caustic soda 2% | 45 | 210 |
| Caustic soda 10% | 25 | 210 |
| Caustic soda 75% | 10 | 180 |
| Ethylene glycol | 30 | 300 |
| Fuel oil pre-heating | 9 | 180 |
| Gasoline | 20 | 300 |
| Machine oil, SAE 30 | 18 | 250 |
| Mineral oil | 16-26 | 200-400 |
| Molasses | 4-5 | 100 |
| Heat transfer oils | 12-20 | 500-650 |
| Vegetable oil | 30-50 | 400 |
| Degreasing solution | 23 | 275 |
| Hydraulic oil | 12-15 | 100 |
| Sodium phosphate | 40 | 212 |
| Trichlorethylene | 23 | 150 |
| Clean water | 55-80 | 212 |
| Deionized water | 60 | 212 |
| Demineralized water | 60 | 212 |