Mica Band Heater
Product Info

Termination & Clamping Options

Installation & Maintenance
Mica Band heaters are efficient and economical solutions to the heating requirements of many applications. Mica Band heaters can attain a maximum sheath temperature of 900°F, but with different electrical termination styles, clamping mechanisms, and ability to accommodate holes and cutouts, mica band heaters are successfully used in many applications, but are mostly sought for in the plastics industry.
The Mica Band Heaters made by Anupam utilizes different types of Top Grade Mica. The thickness of each mica layer is carefully selected in order to balance between the insulating characteristics of mica and the ease of heat transfer from the heating core to the machine barrel.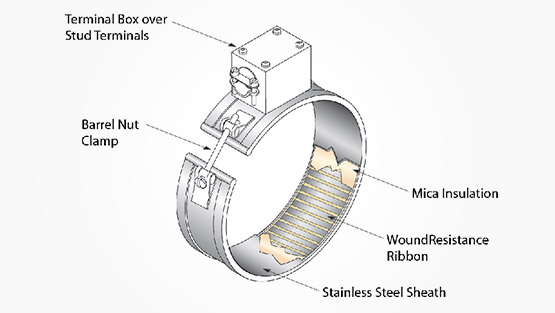 Construction
The resistance wire ribbon used in the mica band heater is not restricted to the capabilities of Nichrome wire. Different alloys are considered for different applications. The internal winding is carefully designed to ensure uniform heat distribution throughout the band heater. To maximize the surface-to-surface contact, our mica band heaters are carefully rounded and formed to optimize the grip on a machine barrel. The external metallic protective sheath of Anupam's Mica band heaters is made of a special alloy, which expands less than the barrel when heated. This difference in thermal expansion makes the heater grip the barrel firmly once it is energized. This improves heat transfer which extends the life of the mica band heater.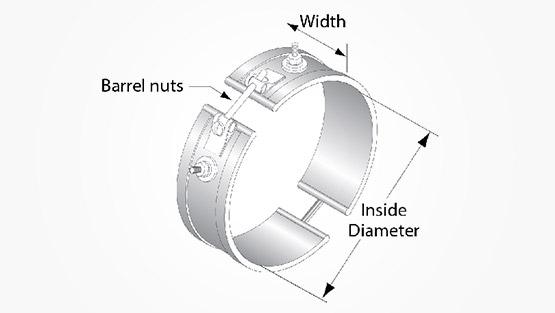 Two Piece Construction
Heater Constructions
One Piece Construction: To be used when a heater can be slipped over a barrel without having to expand the heater extensively.
Two Pieces / Multiple Segment Construction: Two piece or multiple segment bands make installation far more convenient and are recommended for applications over a 14" diameter. Spring loaded clamping is recommended.
Features
Clamping straps will assure efficient heat transfer
The low mass design allows quick heat-up and a quick response
Our design variations provide convenience and heater protection
Specific watt density : 3.5 W/cm2
Working temperature upto 250°C
Element: Nichrome strip/wire
Diameter range 25mm to 1000mm
Length range 25mm to 500mm
High quality Mica having excellent Dielectric strength
Application
Injection Molding Machine
Blow Molding Machine
Extrusion Line
Termination Options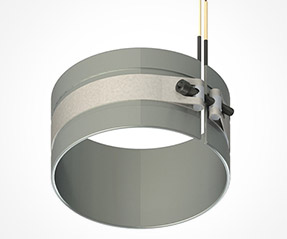 Standard Exit for Mica Nozzles
Two fiberglass insulated (for abrasion protection) lead wires, exit through the lower edge on each side of this band heater.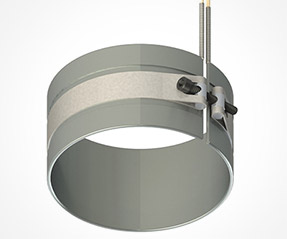 Standard Exit with Metal Braided FG Cables
Metal Braid Leads exit through edge on both sides. This band heater is shown with straps.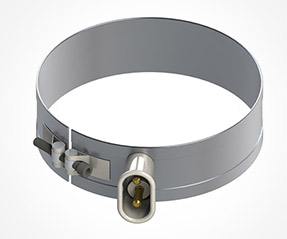 High Temperature Quick Disconnect Plug
This Style offers a quick application that is simple and safe. This style is ideal when quick disconnection is required.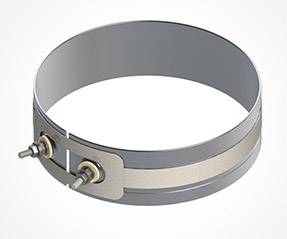 Horizontal Post Terminals
This style includes Post Terminals in Horizontal Position at each end of the Mica Band Heater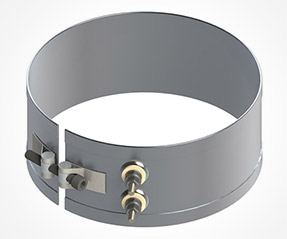 Vertical Post Terminals
This style includes Post Terminals in Vertical Position at the same end of the Mica Band Heater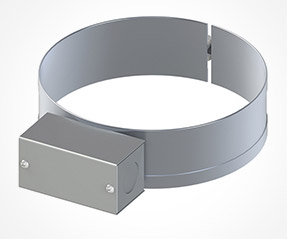 Metallic Terminal Box Connection
erminal boxes are attached to the Mica Band heater with the purpose of covering the terminals as an additional safety feature.
Clamping Options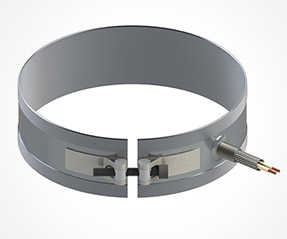 Standard Allen Bolt Clamp
This is the most Standard Clamping System used in all Mica Band & Mica Nozzle Heaters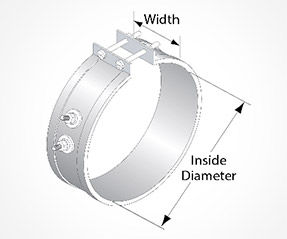 Bent Up Flange Clamp
Available with any termination style and is only recommended for narrower designs.
Ensure Heater ID same as OD of cylinder/nozzle
Eliminate contamination of oil, plastic, dirt etc on cylinder surface to avoid carbonizing & shortening heater life
Secure firmly to avoid Air gap and also to compensate for normal expansion, re-tighten periodically
Maintain temperature controls & accessories in good working condition to avoid over heating condition
Protects leads from abrasion
Avoid process material leakage to terminal