Digital Temperature Controller
Product Info

Technical Specifications
Anupam's Digital Temperature Controller comes with a display size is '1' inch. It is easy to read from a long distance. The instrument is housed in 72H X 144W Din size box.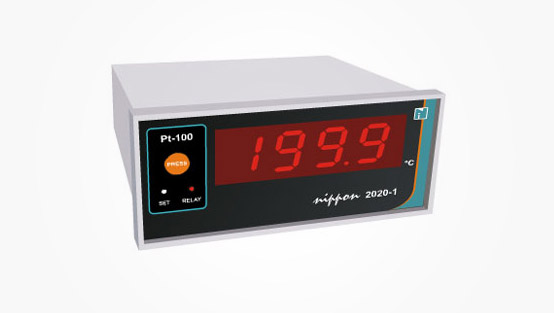 Features
Automatic cold junction compensation (Thermocouples)
Broken sensor indication & sensor linearization
Using DFG techniques are the standard features
High accuracy
Display, measure and control temperature of furnaces over wide range
Element Type
Specification
Principle
Input suitably signal conditioned, amplified, linearised as required and displayed.
Inputs
J,K,R,S,T and other thermocouples, R.T.D.'s like Pt-50,
Pt-100 (2,3 wire), 4-20mA, 0-1 VDC ......etc....
Range, Accuracy Resolution
Refer Table - A
Cold Junction Compensation
Automatic
Sensor Open
Display indicates "1"
Display
31/2 digit bright L.E.D. (.5") in nippon 1010
41/2 digit bright L.E.D. (.5") in nippon 1010A.
Ambient Temperature
0-55 ºC
Humidity
95% RH
Supply Voltage
230 VAC ± 10%, 50Hz, also available 90-260 VAC on request.
Box Size
48H X 96W X 180D in mm 1/8 DIN size (72W X 72H also available)
Table "A"
MODEL NO.
SENSOR
RANGE
CALIBRATION ACCURACY
RESOLUTION ºC / ºF
Anupam 2020A
Pt-100 (2,3 wire)
-100.0 to 600.0 ºC
- 148.0 to 1112.0 ºF
0.25%
0.1
Anupam 2020
Pt-100
-100.0 to 199.9 ºC
- 148.0 to 199.9 ºF
0.25%
0.1
Anupam 2020
Pt-100
-100.0 to 600.0 ºC
- 148.0 to 1112.0 ºF
0.25%
1
Anupam 2020
Iron / Constantan (J)
-100.0 to 600.0 ºC
- 148.0 to 1112.0 ºF
0.1%
1
Anupam 2020
Chrome / Alumel (K)
-80.0 to 1200.0 ºC
- 112.0 to 1999.0 ºF
0.7%
1
Anupam 2020
Pt / Rh (R, S)
-900.0 to 1600.0 ºC
- 1652.0 to 1999.0 ºF
0.5%
1