Energy Saving Insulation Jackets for Band Heaters
Product Info

Ordering Information
Energy Saving Insulation Jackets can be used on any brand of Injection Molding Machine. Their primary use lies in Saving Money by insulating the barrel from the Heat Loss. This in turn requires the Heater Bands to cycle less and lower electricity consumption.
By using these Insulation Jackets, you establish a thermal barrier that impedes temperature dissipation released to its surrounding which permits us to keep the heat generated where it should be, inside the barrel of the machinery.
Insulating Material - High Density Ceramic Fiber Wool, resistant to high temperature while maintaining its original state, durability and flexibility throughout its useful life. Resists temperature up to 1250 degree C.
Features
Energy Saving of up to 35-40%
Lowers Ambient Temperatures
Non - Flammable Reusable Covers
Multilayer Design to withstand High Temperatures
Increases Heater Band Life
Increases safety when working on or around the machines
Velcro Closure system ensures best fitment
Short payoff period
Maximum personal protection
Custom made for Easy Maintenance & Installation
Corrosion Resistant & 100% Asbestos Free
Application
Injection Molding Machine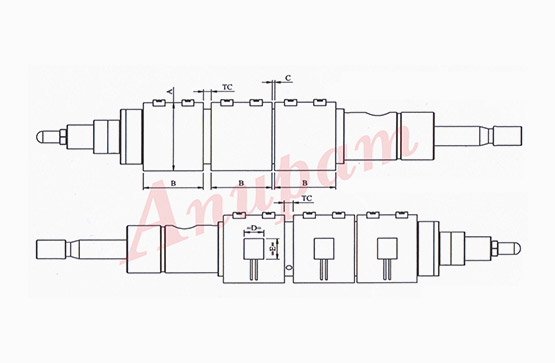 Send the Barrel Diagram with Heater as shown below with necessary dimensions.
A

Outer Diameter of the Heater

B

Length of the Heater

C

Gap between the Heater Bands

D

Width of the Terminal Box

E

Length of the Terminal Box

TC

Gap between the Heater Bands (Where Thermocouple is mounted)