Thermocouples
Anupam produces top of the line temperature sensing devices also known as Thermocouples. A thermocouple is a sensor for measuring temperature. It consists of two dissimilar metals, joined together at one end. When the junction of the two metals is heated or cooled a voltage is produced that can interpreted by a temperature controller, high limit or display device. There are two common constructions for these: Tube and Wire and Mineral Insulated. The tube and wire uses an empty stainless tube with a wire inside which has a welded tip incorporating the wire junction. This construction is typically used to 480ºC. The Mineral Insulated construction uses a highly compacted stainless sheath with solid conductors encased in magnesium oxide insulation. This construction offers a wider variety of diameters, allows for the sensors to be bent in the field and for temperatures to 1200ºC. These sensors are available is a huge range of physical packages with a variety of lead wire, housing, and mounting options.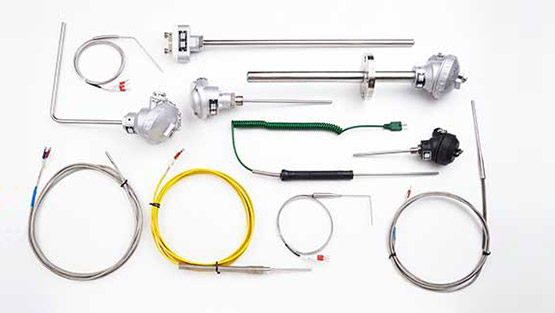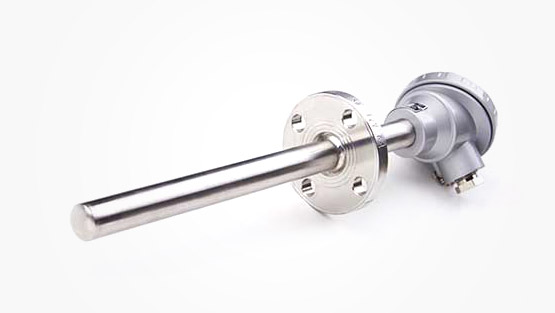 In Mineral Insulated (MI) thermocouples, elements are surrounded by compact inorganic insulation (MgO) and housed in stainless steel or heat resistant alloy sheath to protect it from environment. MI thermocouples have a lot of advantages as compared to conventional beaded thermocouples. These thermocouples are available in long lengths which can easily be wound into coils making them easy to transport. They can be flattened or bends without affecting the sheath or the cores. This flexibility enables them to be easily installed. They have a small sheath diameter allowing the thermocouple to be placed in smaller areas. Ceramic is a brittle material and when placed as beads may succumb under conditions with vibrations. MI thermocouples have high vibration strength which make them apt for such applications. These thermocouples are tested to ensure high quality. All assemblies are tested for Insulation resistance, Visual & Dimensional checks, and Single point calibration. Other tests offered "Conductor loop resistance", "Specific temperature calibration", "Nitrogen leak test", "Hot IR test".
Thermocouple Diagram
The following are some of the standard Thermocouples available in "J" or "K" Please indicate the dimensions of the appropriate TC while ordering. The Thermocouple material required may be specified under the model number of diagram. Adjustable spring type Thermocouple is also available in request. Also any other design can be made on request.
COMPRESSION FITTING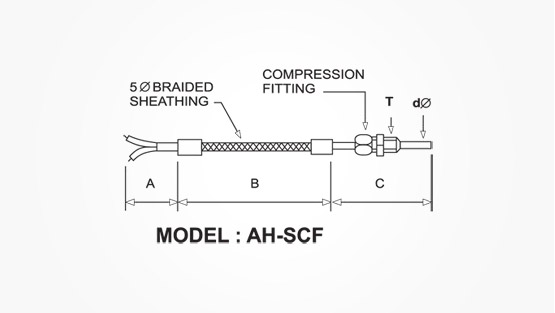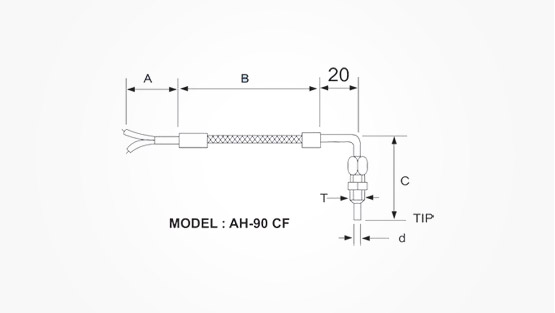 BYONET FITTING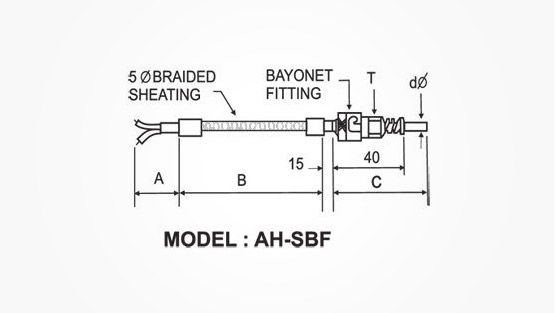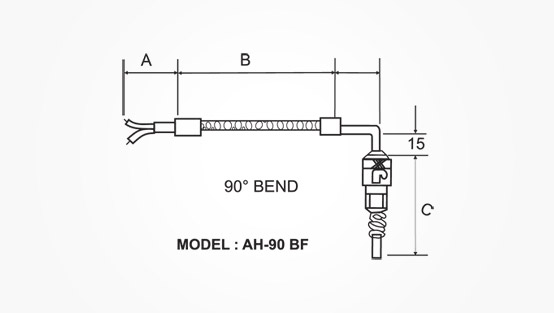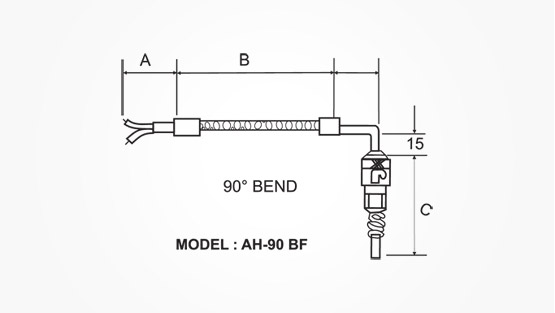 NOTE : PLEASE MENTIONED TIP LENGTH (MM) FOR EACH THERMOCOUPLE. STANDARD: T=1/8" BSP OR 1/4" BSP AND d + 3/16" Dia OR 1/4" Dia
NOTE : FOR THERMOCOUPLE WITHOUT FITTING DELETE F IN MODLE NUMBER.
Features
Thermocouple grade wire withstands high temperatures
All popular thermocouple probes are available including: Adjustable bayonet, compression fitting, nozzle, manifold, extruder, washer and surface mounted styles
Stainless steel sheath minimizes corrosion
Flexible lead wire available in stainless steel braid, stainless steel flexible armor or fiberglass sleeving
Infinite variety of combinations can be designed to suit all temperature sensing applications
Process air heating
Plastic Processing
Hot Runner Systems
Extrusion
Plastic Injection Molding
Film Blowing
Packaging
Medical
Autoclaves
Incubators
Patient Warming Systems
Food Processing
Natural Gas
As part of any Process Heat Control system